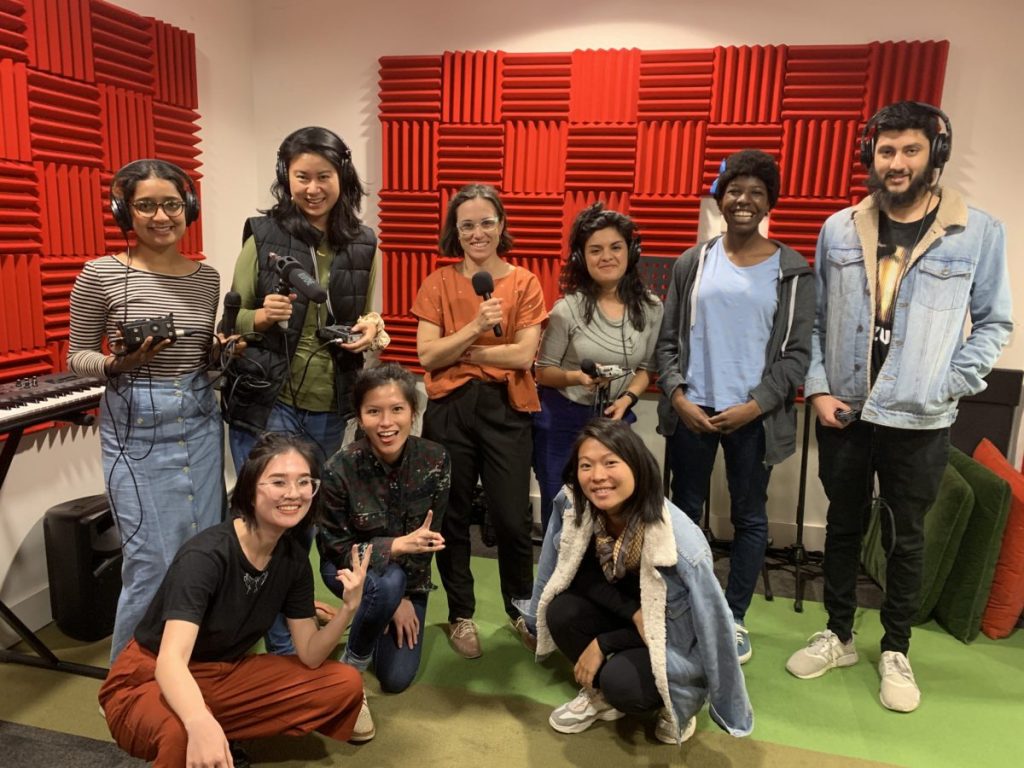 StoryCasters is a training hub for future citizen journalists and digital producers.
To address the under-representation of young culturally diverse content producers and critics in the arts and creative sectors, Diversity Arts Australia developed StoryCasters. We aimed to address the lack of cultural diversity in the writing, screen, podcasting and music industries, and to form communities of practice for diverse content creators. Funded by Create NSW and Multicultural NSW over two and a half years, the project worked with 65 young people from across Western Sydney to develop new skills and career pathways, and to provide opportunities for industry experience.
Diversity Arts partnered with specialist companies and individuals to co-deliver programs. This also ensured greater continuity and mentorship, as well as industry connections. The full cohort met together for exchanges and collaborations, and were brought together for Mixer events and, during the Covid lockdown, for online events. This resulted in cross-pollinations, exchanges and collaborations that extended across more than 10 weeks of training in different disciplines:
Writing — 25 participants, mentored by Winnie Dunn and Shirley Le from Sweatshop Literary Movement
Screen — 15 participants, mentored by Maria Tran from Phoenix Eye
Podcasting — 15 participants, mentored by Podcast Producer Jennifer Macey
Sounds — 10 participants, mentored by Nicola Morton and Del Lumanta via Information and Cultural Exchange.
We rounded out the program with Masterclasses and Industry Talks from industry professionals like Oli Chang (of indie group Animal Feelings) and Anisha Thomas (film music composer, Sound-How).
Following the intensive training, the StoryCasters cohort were commissioned to create new content. While some commissions have been delayed due to Covid, many have been published or aired in literary and media platforms and radio.
Meet the StoryCasters
The StoryCasters are young creatives (between the age of 18-30) who identify as being from a culturally and linguistically diverse background and/or as a person of colour. This includes people from non-English speaking, migrant and refugee backgrounds.
StoryCasters also include: Angeline Barion, Andy Thai, Aseel Harb, Ashleigh Ho, Auatama Iese, Christine Afoa, Elizabeth Mora, Faraaz Rahman, Janette Chen, Karishma Tanvi, Khaleed Al Khawaldeh, May Tran, Md Nurul Hoque, Phoebe Grainer, Rachel Marie, Rameen Malik, Samia Halabi, Stephanie Nguy, Thi Tran, Victoria Zhou, Vivian Duong, Xiaoran Shi and Yenee Saw.
Who's involved?
Executive Producer: Lena Nahlous, Diversity Arts Australia
Project Producer: Sonia Mehrmand, Diversity Arts Australia
Communications and Marketing: Glaiza Perez, Claire Cao and Decode Media
Project Trainers and Mentors: Tanya Ali (FBi Radio), Oli Chang (Animal Feelings), Therese Chen (Phoenix Eye), Winnie Dunn (Sweatshop Literacy Movement), Takashi Hara (Phoenix Eye), Serena Hunt, Shirley Le (Sweatshop Literacy Movement), Del Lumanta, Jennifer Macey, Nicola Morton, Anisha Thomas, Maria Tran (Phoenix Eye), Nancy Trieu (Phoenix Eye).